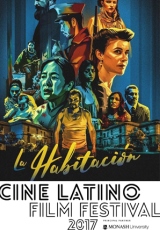 NOW SHOWING
LAT17 Tales of Mexico
Director: Carlos Carrera, Daniel Giménez Cacho, Carlos Bolado, Ernesto Contreras, Alfonso Pineda Ulloa, Alejandro Valle, Iván Ávila Dueñas & Natalia Beristáin
Cast: Irène Jacob, Kaori Momoi, Eugenia Tempesta, Sofía Espinosa, Dagoberto Gama, Krystian Ferrer, Paulette Hernandez
Duration: 118 mins
Rating: 18+
Release Date: 16 November, 2017

Eight directors band together to make this omnibus feature Tales of Mexico – a portfolio of Mexican history and its inevitable repetition. Spanning from before the Mexican Revolution to the present day, it depicts key historical events through its portrayal of various families who lived in one particular house over many decades.
A diversity of people/residents of the house appear in each of the eight episodic bites encapsulating violence, classism, persecution and nostalgia as a set of shifting paradigms. The hopes, dreams and ideals of these various tenants give birth to a filmic metaphor for Mexico's transformation. It all comes fully contained and fully expressed within a singular, domestic space.
Now Showing at
OFFICIAL SELECTION: Chicago Latino Film Festival 2017
OFFICIAL SELECTION: Vancouver Film Festival 2017
TIMES & TICKETS FOR 'LAT17 TALES OF MEXICO'
There are presently no session times scheduled for this film. Times for new release films are generally available from 12pm on the Tuesday prior to release. Please check back later.