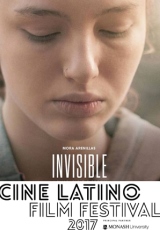 NOW SHOWING
LAT17 Invisible
Director: Pablo Giorgelli
Cast: Mora Arenillas, Mara Bestelli, Diego Cremonesi & Paula Fernández Mbarak
Duration: 87 mins
Rating: 18+
Release Date: 16 November, 2017

The highly anticipated second feature film from the director of multi award-winning festival darling and Camera d'Or Winner Las Acacias is a quietly affecting coming-of-age drama driven by a heart-wrenchingly astute performance from Mora Arenillas.
Things are hard enough for 17-year-old Ely (Arenillas) who drifts through her daily routine at school and her job in a pet shop with complacent apathy. Upon discovering she is pregnant, her sense of normalcy immediately implodes, even as she tries to continue her monotonous routine as though unaffected.
Compared with other ground-breaking films about teenage pregnancy – such as Juno (2007) and 4 Months, 3 Weeks and 2 Days (2007) – Invisible is notable for the way that Ely's inner narrative frames each scene within the context of her constant moral turmoil. Her close friends assume that Ely doesn't want the baby, even though abortion is illegal in Argentina, but deep-down, Ely is unsure of the decision she should make.
Whether she chooses to tread down the road of unlawfully obtained prescription drugs or carry the child to term, it will be a choice that will shadow her for the rest of her life.
Now Showing at
NOMINATED: Best Film (Venice Horizons Award), Venice Film Festival 2017
"A compassionate, critical study of teenage loneliness." - THR
TIMES & TICKETS FOR 'LAT17 INVISIBLE'
There are presently no session times scheduled for this film. Times for new release films are generally available from 12pm on the Tuesday prior to release. Please check back later.