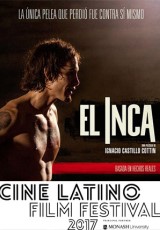 NOW SHOWING
LAT17 El Inca
Director: Ignacio Castillo Cottin
Cast: Alexander Leterni, Scarlett Jaimes & Miguel Ferrari
Duration: 122 mins
Rating: 18+
Release Date: 16 November, 2017

A controversial docu-drama, El Inca focuses on Edwin 'El Inca' Valero (Alexander Leterni) – the larger-than-life but also real-life professional boxer and undefeated two-weight world champion – who became one of the greatest Latin American boxers. Known for his highly aggressive punching style, Valero is still the only champion in the history of the WBC to have won every fight in his career by knockout.
This film frames Valero's rise from humble beginnings in the Venezuelan Andes to a terribly destructive fall through his relationship with his wife, Jennifer (Scarlett Jaimes), which was complex and riddled with toxicity. Though his career improves with every win, his personal life begins to take a huge toll. His affair with another woman only makes deeply-rooted insecurities grow stronger, and his increasing use of illicit drugs facilities Valero's ultimate downfall.
Those who are familiar with this story will know that only tragedy can result when a man refuses to accept responsibility for his actions. El Inca is about success and failure that define us beyond the realm of professional duties.
Now Showing at

NOMINATED: Best Film (HBO Ibero-American Competition), Miami Intl. Film Festival 2017
TIMES & TICKETS FOR 'LAT17 EL INCA'
There are presently no session times scheduled for this film. Times for new release films are generally available from 12pm on the Tuesday prior to release. Please check back later.