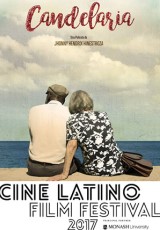 NOW SHOWING
LAT17 Candelaria
Director: Jhonny Hendrix
Cast: Verónica Lynn, Alden Knigth, Philipp Hochmair
Duration: 87 mins
Rating: 18+
Release Date: 16 November, 2017

When Cuba was drowning in hunger, cigars and rum, it is little wonder that ordinary people chose to escape their realities, and live extraordinarily.
Specifically, two elderly spouses, Candelaria (Veronica Lynn) and Victor Hugo (Alden Knight), live out their days during a period of strict trade embargo in the '90s, and have reached the point where they share the bed only for sleeping. She works tirelessly in a hotel laundry, cleaning blankets that are sent through ducts, and the couple's only passion is a quintuplet of chickens they keep in the house and fawn over as though they were their own children.
Things continue smoothly enough, until the discovery of an illegally smuggled camera turns their lives upside-down. When Victor begins to film his wife, it turns into a sexual game that unwittingly reignites his passion for her. Excited by this revelation, they slowly shift their marriage into the fictional space of the camera lens, blurring the line between what is real and what is make-believe to tell a story rarely told.
Now Showing at
OFFICIAL SELECTION: Venice Days, Venice Film Festival 2017
"A treasure trove of emotions and humanity." - Cineuropa
TIMES & TICKETS FOR 'LAT17 CANDELARIA'
There are presently no session times scheduled for this film. Times for new release films are generally available from 12pm on the Tuesday prior to release. Please check back later.