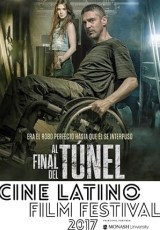 NOW SHOWING
LAT17 At the End of the Tunnel
Director: Rodrigo Grande
Cast: Leonardo Sbaraglia, Pablo Echarri, Clara Lago
Duration: 120 mins
Rating: 18+
Release Date: 16 November, 2017

Paying homage to the likes of cinema's greatest thrillers such as Rififi and The Great Escape – and doing so with remarkable accomplishment – is writer-director Rodrigo Grande's taut, tightly-paced and highly suspenseful At the End of the Tunnel.
The film stars Leonardo Sbaraglia (Wild Tales) as Joaquín, a grieving widower, mourning the loss of both his wife and child in a car accident that left him paralysed from the waist down. Joaquín rents out a room in his house to an exotic dancer and her daughter, though he begins to suspect his boarder is not all that she appears.
Featuring Sbaraglia in one of the most impressively physical performances from someone whose movements are restricted, this is a film packed with countless twists, turns and snags that ratchets up the tension with every plot reveal. For those who like their cinema viewing on the edge of their seat, At the End of the Tunnel does not fail to deliver.
Now Showing at
WINNER: Best Thriller Award, Brussels International Festival of Fantasy 2017
WINNER: Audience Award (Best Feature Film), Washington DC Film Festival 2017
WINNER: Golden Space Needle Award (Best Film and Best Director), Seattle International Film Festival 2017
"Grande's script is fun, his characters intriguing, and his buildup expertly paced." - Variety
TIMES & TICKETS FOR 'LAT17 AT THE END OF THE TUNNEL'
There are presently no session times scheduled for this film. Times for new release films are generally available from 12pm on the Tuesday prior to release. Please check back later.