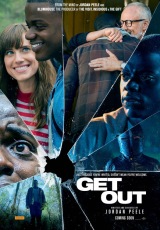 NOW SHOWING

Get Out
Director: Jordan Peele
Cast: Daniel Kaluuya, Allison Williams, Bradley Whitford
Duration: 104 mins
Language: English
Rating: MA15+ - Strong themes and violence
Release Date: 4 May, 2017

Now that Chris and his girlfriend, Rose, have reached the meet-the-parents milestone of dating, she invites him for a weekend getaway upstate with Missy and Dean. At first, Chris reads the family's overly accommodating behavior as nervous attempts to deal with their daughter's interracial relationship, but as the weekend progresses, a series of increasingly disturbing discoveries lead him to a truth that he could have never imagined.
Now Showing at
TIMES & TICKETS FOR 'GET OUT'
There are presently no session times scheduled for this film. Times for new release films are generally available from 12pm on the Tuesday prior to release. Please check back later.