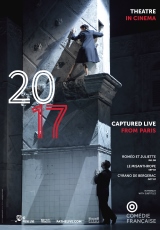 NOW SHOWING

Comédie Française: ROMÉO ET JULIETTE
Language: French with English Subtitles
Rating: CTC
Release Date: 8 July, 2017

Limited Season July 8 & 9
More Comédie Français 2017 Season​
Rarely staged in France, William Shakespeare's classic makes its return to la Comédie-Française for the first time in about 50 years. Ruf's take on the play remains as close as possible to Shakespeare's original masterpiece, in a "Southern Italy where the sun hits town squares and heats up people's minds. (…) An Italy of vendetta where vengence, death are inherited from a generation to the other…".
Érif Ruf is also responsible for the scenography of the play and collaborated with Christian Lacroix, a regular at la Comédie-Française, as costume designer.
Now Showing at
TIMES & TICKETS FOR 'COMéDIE FRANçAISE: ROMÉO ET JULIETTE'
There are presently no session times scheduled for this film. Times for new release films are generally available from 12pm on the Tuesday prior to release. Please check back later.