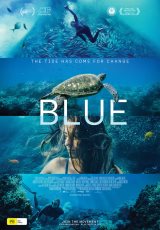 NOW SHOWING

Blue
Director: Karina Holden
Language: English
Rating: CTC
Release Date: 12 October, 2017

BLUE is the story our generation need to hear. The industrialization that has occurred in the oceans over the last century, mirrors the events that triggered mass extinctions on land. Industrial scale fishing, habitat destruction, species loss and pollution have placed the ocean in peril. The very nature of the sea is being irretrievably altered. BLUE is a provocative journey into the ocean realm, witnessing this critical moment in time when the marine world is on a precipice.
Now Showing at
TIMES & TICKETS FOR 'BLUE'
There are presently no session times scheduled for this film. Times for new release films are generally available from 12pm on the Tuesday prior to release. Please check back later.