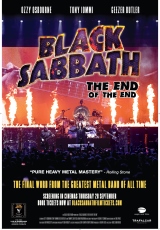 NOW SHOWING

Black Sabbath: The End of The End
Director: Dick Carruthers
Duration: 120 mins
Language: English
Rating: M
Release Date: 28 September, 2017

The End of The End chronicles the final tour from the band who forged the sound of metal - Black Sabbath. After nearly 50 years together, the Birmingham band took to the stage for the last time in their home city, bringing down the curtain on their final tour ever.
They performed generation-spanning songs that have defined a genre in front of a sold-out arena and, in exclusive new interviews, the band themselves tell it how they lived it. After half a century, this is your chance to hear the final word from the greatest metal band of all time.
Now Showing at
TIMES & TICKETS FOR 'BLACK SABBATH: THE END OF THE END'
There are presently no session times scheduled for this film. Times for new release films are generally available from 12pm on the Tuesday prior to release. Please check back later.