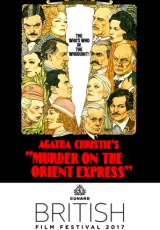 NOW SHOWING

BFF17 Murder on The Orient Express
Director: Sidney Lumet
Cast: Albert Finney, Lauren Bacall, Martin Balsam, Ingrid Bergman, Anthony Perkins Vanessa Redgrave, Sean Connery, Richard Widmark, John Gielgud
Duration: 128
Rating: PG
Release Date: 2 November, 2017

A cry of alarm rings out, muffled French can be heard in the corridor and then footsteps. Hercule Poirot (Albert Finney, Skyfall) pauses for a moment in his compartment, lifts an eyebrow, looks out into the hallway but, finding nothing, returns to his rest.
The next morning, it's revealed that Ratchett (Richard Widmark, Judgment at Nuremberg), the hateful American billionaire, has been stabbed to death. It's clearly a case for the world's most famous detective, Hercule Poirot, and over breakfast he agrees to take it. His list of suspects: everyone on board the Orient Express, currently at a standstill due to heavy snow.
So begins Sidney Lumet's splendidly entertaining adaptation of Agatha Christie's renowned novel Murder on the Orient Express, the classic whodunit with an exceptional cast keeping the elaborate conspiracy obscured. One of the best screen adaptations of an Agatha Christie mystery and, if you're unfamiliar with the solution, it'll take your breath away.
Now Showing at
WINNER: Best Supporting Actress (Ingrid Bergman), Academy Awards 1975
WINNER: Best Supporting Actor (John Gielgud), Best Supporting Actress (Ingrid Bergman), BAFTA Awards 1975
NOMINATED: Best Actor in a Leading Role (Albert Finney), Best Adapted Screenplay, Best Cinematography, Academy Awards 1975
TIMES & TICKETS FOR 'BFF17 MURDER ON THE ORIENT EXPRESS'
There are presently no session times scheduled for this film. Times for new release films are generally available from 12pm on the Tuesday prior to release. Please check back later.