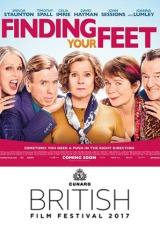 NOW SHOWING
BFF17 Finding Your Feet
Cast: Imelda Staunton, Timothy Spall, Joanna Lumley.
Duration: 111
Rating: 15+
Release Date: 15 November, 2017

Get into the groove with this heart-warming and hilarious comedy that proves it's never too late to start again, starring Imelda Staunton, Timothy Spall and Joanna Lumley.
Now Showing at
TIMES & TICKETS FOR 'BFF17 FINDING YOUR FEET'
There are presently no session times scheduled for this film. Times for new release films are generally available from 12pm on the Tuesday prior to release. Please check back later.