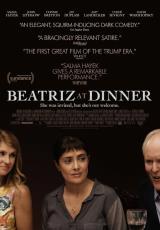 NOW SHOWING

Beatriz at Dinner
Director: Miguel Arteta
Cast: Salma Hayek, John Lithgow, Connie Britton
Duration: 82 mins
Language: English
Rating: M
Release Date: 21 September, 2017

Beatriz (Salma Hayek), an immigrant from a poor town in Mexico, has drawn on her innate kindness to build a career as a health practitioner in Los Angeles. Doug Strutt (John Lithgow) is a cutthroat, self-satisfied billionaire. When these two opposites meet at a dinner party, their worlds collide and neither will ever be the same.
Now Showing at
TIMES & TICKETS FOR 'BEATRIZ AT DINNER'
There are presently no session times scheduled for this film. Times for new release films are generally available from 12pm on the Tuesday prior to release. Please check back later.