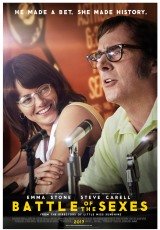 COMING SOON

Battle of the Sexes
Director: Jonathan Dayton, Valerie Faris
Cast: Emma Stone, Steve Carell, Elisabeth Shue
Duration: 121 mins
Language: English
Rating: PG
Release Date: 28 September, 2017

In the wake of the sexual revolution and the rise of the women's movement, the 1973 tennismatch between women's World #1 Billie Jean King (Emma Stone) and ex-men's-champ and serial hustler Bobby Riggs (Steve Carell) was billed as the BATTLE OF THE SEXES and became one of the most watched televised sports events of all time, reaching 90 million viewers around the world. As the rivalry between King and Riggs kicked into high gear, off-court each was fighting more personal and complex battles. The fiercely private King was not only championing for equality, but also struggling to come to terms with her own sexuality, as her friendship with Marilyn Barnett (Andrea Riseborough) developed. And Riggs, one of the first self-made media-age celebrities, wrestled with his gambling demons, at the expense of his family and wife Priscilla (Elisabeth Shue). Together, Billie and Bobby served up a cultural spectacle that resonated far beyond the tennis court, sparking discussions in bedrooms and boardrooms that continue to reverberate today.
Coming Soon to
Palace Nova Eastend
MOVIES COMING SOON
28 September, 2017
30 September, 2017
5 October, 2017
7 October, 2017
12 October, 2017
14 October, 2017
22 October, 2017
26 October, 2017
28 October, 2017
2 November, 2017
4 November, 2017
11 November, 2017
16 November, 2017
2 December, 2017
9 December, 2017
14 December, 2017
26 December, 2017
10 February, 2018
15 February, 2018
3 March, 2018
31 March, 2018
28 April, 2018
26 May, 2018
16 June, 2018
14 July, 2018
TIMES & TICKETS FOR 'BATTLE OF THE SEXES'
There are presently no session times scheduled for this film. Times for new release films are generally available from 12pm on the Tuesday prior to release. Please check back later.