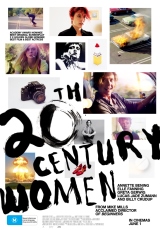 NOW SHOWING

20th Century Women
Director: Mike Mills
Cast: Annette Bening, Elle Fanning, Greta Gerwig
Duration: 119 mins
Language: English
Rating: M
Release Date: 1 June, 2017

Love, life, and the struggles of a mother bringing up a son in the the early 70's. The ignorance of a free spirit against the needs of a young man trying to find his true character and beliefs. Living in a bohemian household shared with 3 like minded spirited people to help pay the rent, his mother tries to establish bonds that he cannot deal with.
She cannot deal with his inability to talk, and enlists the help of other females in his life to share the burden of his upbringing. Slowly life unravels for them all without understanding how. In spite of their perceived struggles, they all go on to live defined lives without any serious consequences.
Now Showing at
A rushing river of gorgeous moments. Deliciously watchable.
- Jordan Hoffman, THE GUARDIAN
TIMES & TICKETS FOR '20TH CENTURY WOMEN'
There are presently no session times scheduled for this film. Times for new release films are generally available from 12pm on the Tuesday prior to release. Please check back later.