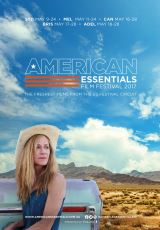 FILM FESTIVAL NOW SHOWING
American Essentials Film Festival 2017
Festival Dates: 18 May, 2017 - 28 May, 2017
Participating Cinemas: Palace Nova Eastend
TICKETS ON SALE NOW
Welcome From Richard Sowada
Artistic Director
One of the great things about curating a program like American Essentials is experiencing the remarkable range of independent works produced over the last year. I hope this year's program gives audiences a taste of this breadth and provides you with as much enjoyment as it has for me to program. Straddling styles as diverse as thriller, melodrama, adventure, comedy, coming of age, body horror, political documentary, symphonic documentary, classics, music, cult, art and biography there just has to be something for everybody!
What I love about them all though is fantastic vitality and the obvious talent from some of the filmmakers in the early stages of their feature film careers. I also love the deep and obvious respect even some of these newer filmmakers have for the deep traditions of storytelling in American cinema. These traditions simply sparkle in out Masters & Masterpieces section that includes stunning brand new restorations of American classics as well as brand new documentaries that provide the fine-grain behind some of these genuinely iconic cinema works.
Virtually all the new works are Australian premieres drawn from the 2016 Toronto and Venice festivals and the 2017 Sundance, Berlin, Rotterdam and SXSW events. Most come to Australia only a matter of weeks after their World Premieres and it gives us enormous pleasure to bring them to you.
I sincerely hope you enjoy this year's event – there's a lot of me in it.
Official Festival Website Download Program
At Palace Nova Cinemas from May 18 - 28
FESTIVAL EVENTS
OPENING NIGHT
Join us for a pre-film celebration with Stella Artois, wine, canapés and live entertainment followed by the premiere of Mike Mills's highly-anticipated 70s-era tale of love and loss; 20TH CENTURY WOMEN.
Thursday 18 May
7pm Arrival, 8pm Film
Palace Movie Club Members $30
General Admission $35
COMPLETE FESTIVAL LINEUP
OPENING NIGHT
20TH CENTURY WOMEN

CENTREPIECES
BECOMING BOND
DOUBLE FEATURES
​BARFLY + YOU NEVER HAD IT: AN EVENING WITH BUKOWSKI
DAVID LYNCH: THE ART LIFE + ERASERHEAD
THE BOMB + SURVIVAL UNDER ATOMIC ATTACK

MASTERS & MASTERPIECES
ANDY WARHOL'S BAD
ANNIE HALL
​DAVID LYNCH: THE ART LIFE
THE GRADUATE
MULHOLLAND DR.
POSTCARDS FROM THE EDGE
THE UNTOLD TALES OF ARMISTEAD MAUPIN

FEATURES AND DOCUMENTARIES
ALL GOVERNMENTS LIE: TRUTH, DECEPTION, AND THE SPIRIT OF I.F. STONE
AMERICAN ANARCHIST
AMERICAN PASTORAL
ARE WE NOT CATS
CALIFORNIA DREAMS
COLUMBUS
DAVYEON
DETOUR
DONALD CRIED
FROM NOWHERE
G-FUNK
LEN AND COMPANY
STRANGE WEATHER
SYLVIO
THE TRANSFIGURATION
WALKING OUT
WIENER-DOG
Booking Information:
For more information, and to stay in the know, visit the official festival website, like them on Facebook or follow them on Twitter #americanessentialsff
OTHER FILM FESTIVALS
There are no other festivals found for your state, please contact our webmaster if you believe this is an error.