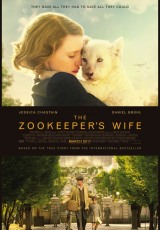 EVENT NOW SHOWING
THE ZOOKEEPER'S WIFE [M] - Movie Club Preview
Event Date: 29 April, 2017
Participating Cinemas: Palace Nova Eastend
We are excited to invite our Movie Club Members to preview THE ZOOKEEPER'S WIFE; the real life story of one working wife and mother who became a hero to hundreds during World War II.
Screening Details
4pm, Saturday 29 April
Palace Nova Cinemas – Adelaide CBD
Standard Member and General Admission Ticket Applies
THE ZOOKEEPER'S WIFE [M]
In 1939 Poland, Antonina Żabińska (Jessica Chastain) and her husband, Dr. Jan Żabiński (Johan Heldenbergh), have the Warsaw Zoo flourishing under his stewardship and her care.
When their country is invaded by the Germans, Jan and Antonina are stunned and forced to report to the Reich's newly appointed chief zoologist, Lutz Heck (Daniel Brühl).
To fight back on their own terms, the Żabińskis covertly begin working with the Resistance and put into action plans to save lives out of what has become the Warsaw Ghetto, with Antonina putting herself and even her children at great risk.
Season Commences May 4
Booking Information:
Purchase Tickets Make A Group Booking
Not a member? Sign up here
Tickets on sale at the box office, online and via the My Cinema App for iPhone and Android. Booking fees apply for online and app purchase.