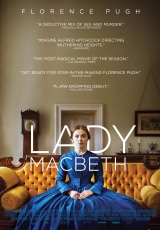 EVENT NOW SHOWING
Preview Event: LADY MACBETH - Win with the State Theatre Company!
Event Date: 21 June, 2017
Participating Cinemas: Palace Nova Eastend
To celebrate the release of LADY MACBETH, the State Theatre company are coming on board for a true theatre & cinema partnership for audiences to enjoy. Artistic Director, Geordie Brookman will be leading the fanfare, alongside his new ensemble cast - who can't wait to get in front of the Adelaide crowd with their inaugural production of A Doll's House and follow-on Macbeth.
Win a 'Theatre Lovers' Experience from The State Theatre Company
Every audience member at this preview event will receive a very special offer from the State Theatre Compamy for their next two upcoming productions; A Doll's House & Macbeth. In addition to this, two lucky audience members will leave with a major prize on the night.
Screening Details
Wednesday June 21st
6:30pm Drink on arrival
7:00pm Intro from Geordie Brookman & film
Palace Nova Cinemas - Adelaide CBD
Palace Nova and State Theatre Company Member Ticketing Applies
General Admission Ticketing Applies
LADY MACBETH [CTC]
Rural England, 1865. Katherine (Florence Pugh in her award-winning breakout role) is sold into a loveless marriage to a bitter man twice her age, and his cold, unforgiving family.
When she embarks on a passionate affair with a young worker, a force inside her is set free – a force so powerful that she will stop at nothing to get what she wants, unleashing a maelstrom of murder and mayhem on her husband's country estate.
Based on the classic Russian novel and showcasing an astonishing performance from Florence Pugh as the unforgettable antihero Katherine, LADY MACBETH is both timeless and timely; a deliciously dark and radically original twist on a period film.
Season Commences June 29
Booking Information:
Purchase Tickets Make a Group Booking
Not a member? Sign up here
Tickets on sale at the box office, online and via the My Cinema App for iPhone and Android. Booking fees apply for online and app purchases.
*Proof of Age ID is required for the complimentary wine on arrival - a non-alcoholic alternative will be available for those who fail to do so, or do not want to.