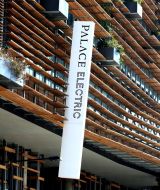 OUR CINEMAS
Palace Electric Cinema
Address: NewActon Nishi, 2 Phillip Law Street (Corner Edinburgh Ave and Parkes Way), Canberra
Phone: 02 6222 4900

Palace Electric is located in Canberra's luxe NewActon Nishi Precinct, and presents simply the best selection of international cinema; arthouse, documentary, independent and quality new release films. Eight theatres with luxurious amphitheatre seating and the latest in digital projection and sound make for a state of the art cinematic experience. Patrons will enjoy a sophisticated drink at the Prosecco Bar which can also be taken into the fully licensed auditoria; coffee aficionados can enjoy delicious Lavazza coffee and gourmet tastings from the Electric Espresso Café.
Palace Electric is an exciting event venue for exclusive private hire, corporate events and presentations, fundraising film nights, plus group hire for partial exclusivity. Palace Electric hosts many prestigious premieres and festivals such as The Lavazza Italian Film Festival, The Alliance Francaise French Film Festival, Spanish and British Film Festivals (to name a few) which currently attract hundreds of thousands of foreign film lovers across Australia each year. Palace Electric has a delightful and professional management team dedicated to making each event a success as the eight cinemas can cater up to 800 people at one time.
Times and tickets: www.palacecinemas.com.au
Love quality film? Join the club: www.palacecinemas.com.au/movieclub
FACEBOOK: www.facebook.com/palaceelectric
TWITTER: @PalaceElectric
"AD", when applied to a film session, refers to audio description for visually impaired patrons. Audio description is for specific individual use and does not impact the standard cinema-going experience for non-users.
TICKET PRICES
Everyday
Except
Mon/Sat after 5pm
Monday
All Day
Saturdays After 5pm
MClub Adult
$14.00
$9.50
$14.00
MClub Golden
$8.50
$7.50
$8.50
MClub Student
$11.50
$9.50
$11.50
Adult
$18.50
$11.00
$19.50
Student
$13.50

$11.00

$13.50
Child
$14.50

$11.00

$14.50
Senior 60+
$12.00
$8.50
$12.00
HealthCare
$15.50
$11.00
$15.50
Pensioner
$15.00
$11.00
$15.00
(Electric Discount Monday not applicable on Public Holidays, Film Festivals & Special Events)
(All 3D sessions incur a $3 surcharge over and above our regular pricing for 2D screenings. Reusable 3D Glasses are available at the Box Office for $1.00)
(Movie Club Members can bring only a guest of the same age in at the same price otherwise the price reverts to the Movie Club Adult price.)
PLEASE NOTE: Special pricing may apply to Film Festivals and Special Events.
BABES IN ARMS - Baby Friendly Sessions Thursday $10.00 at 11am
$10.00 - (under 3 years free) specially lit sessions for parents with babes. More details on this website under Babes in Arms. Feature Films will be listed on session times as (babes).
Tickets for listed sessions, unless otherwise indicated, are on sale from the venue box offices and online through this website (by clicking on the 'session time' of your choice). Not all ticket types may be available for purchase online. Other ticket types may be purchased directly from the box offices.
TIMES & TICKETS FOR PALACE ELECTRIC CINEMA
Step 1:
Please select a DAY
Step 2:
Click on session time to buy
SELECT MOVIE/TIME
Please select a DAY first
NOW SHOWING AT PALACE ELECTRIC CINEMA
No films were found that match that criteria, please contact our webmaster to report the problem.


COMING SOON TO PALACE ELECTRIC CINEMA
No films were found that match that criteria, please contact our webmaster to report the problem.