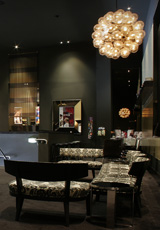 OUR CINEMAS
Palace Brighton Bay
Address: 294 Bay Street, Brighton
Phone: (03) 9596 3590

Nestled amongst the eateries and nightlife of the Bay Street shopping strip, the Palace Brighton Bay Cinema is popular with discerning film goers who appreciate an intimate and charming cinema experience. Palace Brighton Bay is the flagship of arthouse cinema in Melbourne. With four new well-appointed cinemas, bar and plush foyer the Palace Brighton Bay is a first class cinema experience.
Brighton Bay Bar
Enjoy fresh premium Lavazza coffee prepared by our experienced baristas or choose from a great variety of food and drinks including local and international premium wine & beer, handmade Connoisseur choc tops, healthy choice popcorn cooked in olive oil and more.
Private Hire
The Palace Brighton Bay is equipped with state of the art digital projection with Dolby surround sound. The cinema wine & espresso bar is available for pre or post film functions. To find out more about Private Hire, Group Bookings & Events for 20 or more guests, please click here.
Getting to Palace Brighton Bay
Public Transport
Just four doors from North Brighton railway station (Sandringham Line)
Bus Routes
703 Middle Brighton to Blackburn
:: Palace Brighton Bay Cinema
:: Bentleigh Station
:: Clayton Station
:: Monash Medical Centre
:: Monash University
:: Syndal Railway Station
:: Kmart, Burwood East
:: Forest Hill Chase Shopping Centre
:: Blackburn Railway Station
824 North Brighton to Southland
:: Palace Brighton Bay Cinema
:: Cnr Hampton Street & Marriage Road
:: Moorabbin Station
:: Southland Shopping Centre
216 & 219 North Brighton to Brighton Beach
600 St Kilda to Southland
Parking
Bay Street is 2 hour parking until 6.30pm. All day parking is available in railway car park, Durrant Street, Asling Street and St Andrews (over Durrant Street), one block away from cinema. Carpenter Street is 3 hour parking. There is a 15-minute drop off/pick up park outside the front door. Public Car Park at 1 Asling Street under Brighton on Bay. 1 Hour is free and then $1 per hour thereafter. $5 maximum.
Accessibility
The lift at Palace Brighton Bay is self operating and can lift 300kg's with wheelchair dimensions of 1.26m x 1m x 2.04m
Wheelchair access available in Cinemas 3 and 4.
TICKET PRICES - Effective December 17, 2015
**3D + $3.00
Everyday Except Tuesday
Tuesday All Day
Saturday After 5pm
Adult
$20.50
$12.50
$21.00
Student
$15.50
$12.50
$16.00
Child
$14.50
$12.50
$15.00
Senior 60+
$12.50
$10.00
$13.00
HealthCare
$16.50
$12.50
$17.50
Pensioner
$16.50
$12.50
$17.50
Industry Conc
$17.50
$12.50
$17.50
MClub Adult
$15.50
$12.00
$15.50
MClub Golden
$10.50
$9.50
$10.50
MClub Student
$11.50
$11.00
$11.50
Tickets prices may be different for Film Festivals and Special Events. Ticket prices subject to change without notification.
Purchase a Movie Club membership now
Bargain Day Tuesday
(Non-applicable on Public Holidays, Film Festivals & Special Events)
Movie Club Adult & guest $11.00
Movie Club Student & guest $10.00
Movie Club Golden & guest $9.00
Movie Club Scope (under 18) $9.00
Non-member Adult / Child / Pensioner / Concession / Student: $12.50
Non-member Senior: $9.50
PLEASE NOTE: Special pricing may apply to Film Festivals and Special Events.
TIMES & TICKETS FOR PALACE BRIGHTON BAY
Step 1:
Please select a DAY
Step 2:
Click on session time to buy
SELECT MOVIE/TIME
Please select a DAY first
NOW SHOWING AT PALACE BRIGHTON BAY
No films were found that match that criteria, please contact our webmaster to report the problem.


COMING SOON TO PALACE BRIGHTON BAY
No films were found that match that criteria, please contact our webmaster to report the problem.